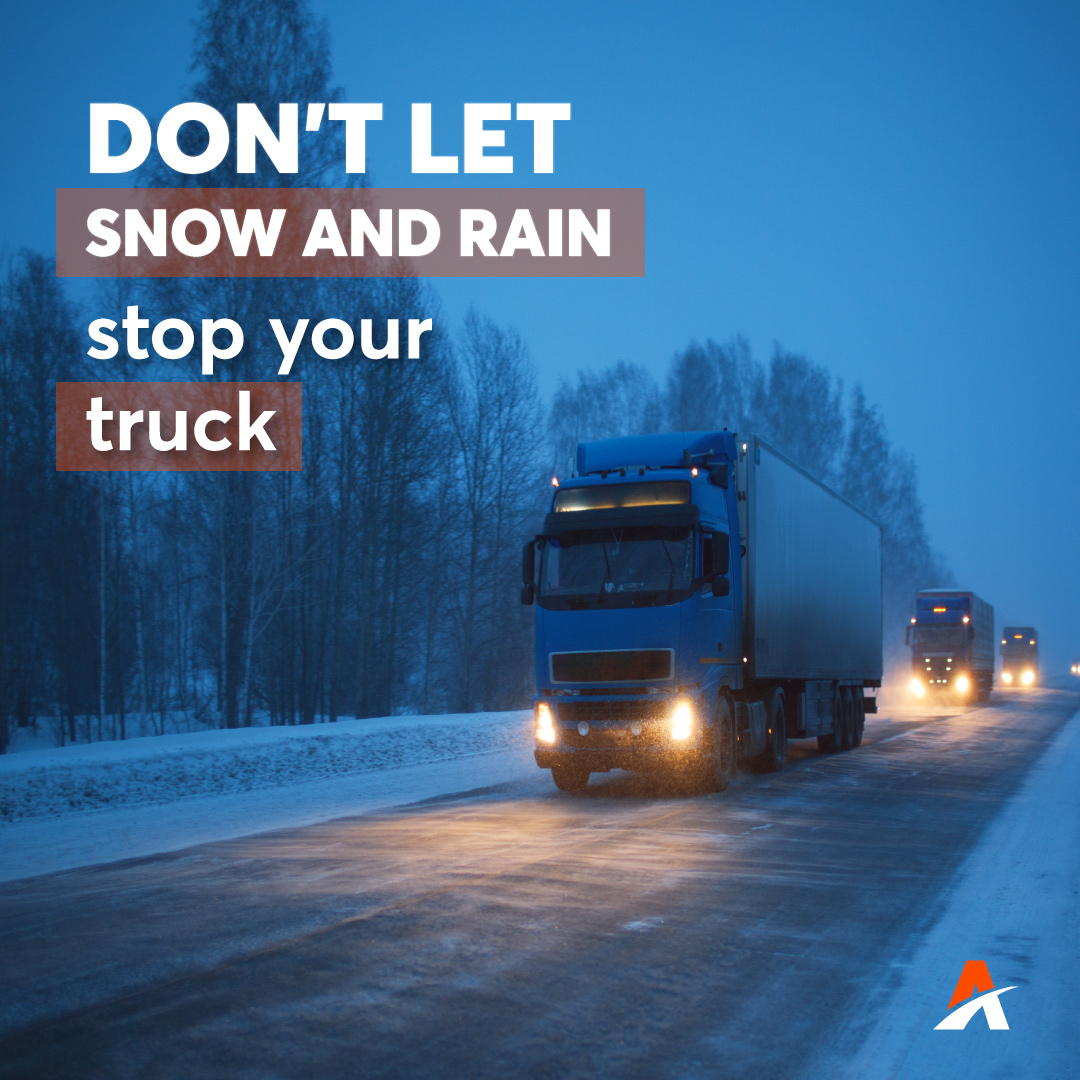 When the cold weather comes, professional drivers must follow recommendations for truck maintenance and their own well-being. Journeys in wintertime can be made more difficult due to low temperatures and bad weather: rain and snow for example.
Tips on maintaining trucks
Cold, snowy and rainy conditions can wreak havoc on your truck. That's why it's important for professional drivers to carry out some checks to ensure that their vehicle is being properly maintained.
Check the vehicle's general condition. Truck maintenance is of the utmost importance all year round. However, even more so in winter. It must be ensured that the vehicle can withstand low temperatures. Furthermore, checking the heating systems, the battery, the oil levels, lights or wipers are also important before setting off on a journey.
Check that the breaks are working. This is where the ABS (Anti-lock Braking System), drum brake adjustment, parking brake and brake fluid levels come into play.
Check the truck's antifreeze levels several times over the course of the winter to ensure that the truck responds effectively in all conditions.
Check the shock absorbers. To prevent vehicle stability-related problems, each manufacturer's recommendations should be followed word for word.
Check the tyres. It is important to ensure that the tyre tread is in perfect condition since, in winter, being faced with snow or ice on the asphalt is commonplace. Checking tyre pressure is also important to ensure driving safety, while optimising fuel consumption and extending tyre life. Winter tyres could also be a good option depending on where you are driving (recommended in areas where the temperature does not exceed 7º). These tyres are the best ally for haulers as they are manufactured with special materials that ensure a better driving experience when it is snowing heavily or there is ice on the road (although they can also be used when it isn't snowing, as long as temperatures are low).
Tips for professional drivers
Truck maintenance recommendations are just as important as those of the hauler him/herself. Following the tips below will reduce the chances of problems arising while on the road in winter.
Check the weather forecast before setting off. Before setting off on a journey, in particular long-distance journeys, you need to be up to date with the weather conditions in order to ensure that the route you are taking is safe, as well as to adapt how you drive if it is raining or snowing.
Get information about the condition of the roads. Road conditions may be affected by weather conditions. Make sure they are in good condition in the event you have to divert or delay setting off.
Increase the safety distance so drivers have more time to react. In winter, due to weather conditions, the driver's field of vision may be reduced, tyres take longer to brake and roads may be more slippery.
Get some rest before setting off. Drivers must be in optimal driving conditions to prevent the risks of fatigue. Furthermore, winter driving requires drivers to be in full control at all times, so driving when tired is extremely dangerous. Sleeping 7-8 hours a day and taking advantage of stops to rest are some tips to ensure that drivers are feeling 100% while at the wheel.
Refuel. In winter, drivers may be faced with adverse weather conditions and journeys may take longer than planned. Don't be left stranded at the side of the road in these conditions.
Take everything you may need in the truck in case you are stranded. Food, water, warm clothing (gloves, scarf, coat, hat, suitable footwear…), blanket, torch…
At Andamur, our priority is the well-being of professional drivers. That's why #WeLookAfterWhatMatters 365 days a year. Take care! At the wheel, your safety comes first.
https://www.andamur.com/wp-content/uploads/2021/12/articulo-paco-ENG.jpg
1080
1080
andamur
https://www.andamur.com/wp-content/uploads/2022/01/logo-web-35-EN-156px.png
andamur
2021-12-16 09:49:32
2021-12-16 09:49:32
Tips on driving a truck in winter