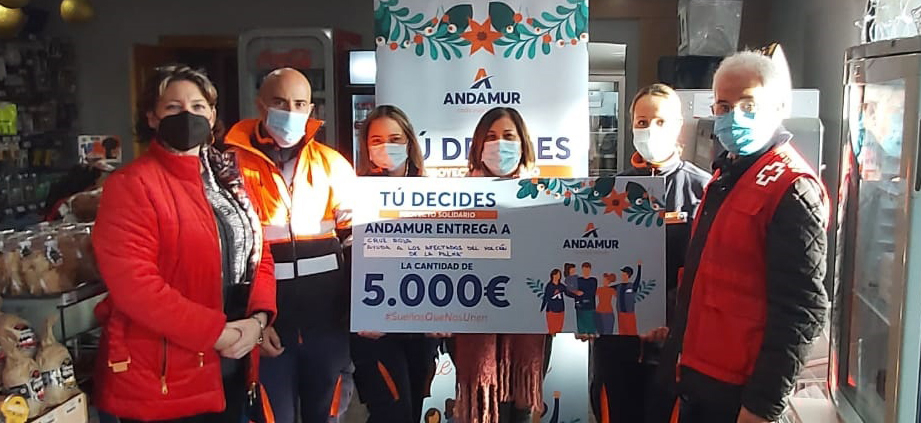 During the first fortnight of December, Andamur has carried out the 'You decide' campaign, a solidarity project thanks to which we have donated €30,000 to various Spanish NGOs that carry out solidarity projects for different groups.
From 1 to 15 December, all those people who have used any Andamur service in our Service Areas have been able to vote for a solidarity project through tablets installed in them. Thanks to all those people who wanted to take part in this project, which has had almost a thousand votes. That is why our customers have been key to this campaign.
These are the NGOs among which 30,000€ have been distributed and which have received 5,000€ thanks to this initiative:
– Red Cross. Aid for those affected by the La Palma volcano (Andamur El Límite and Andamur Lorca, for which they will receive €10,000).
– Adsis Foundation. To provide training and employment opportunities for young people in vulnerable situations (Andamur San Román).
– Greenheart Animal Sanctuary. Rescue of mistreated and abandoned animals (Andamur Pamplona)
– ASPACE. Asociación Jiennense de Atención a Personas con Parálisis Cerebral y Afines (Jaén Association for the Care of People with Cerebral Palsy and Related Conditions). Entertainment activities for oncology children (Andamur Guarromán).
– Altem Foundation. The ALTEM Private Foundation is a non-profit organisation that has been supporting and accompanying people with disabilities and at risk of exclusion in their life projects for over 50 years (Andamur La Junquera, La Junquera-Llers and AND GO).
At Andamur we are committed to society and every day we do our bit to build a better world for everyone. With this action, we show our commitment to society and to organisations that contribute to social welfare. This action is part of our CSR Plan #CuidamosLoLoQueImporta, within the Social Commitment axis.
https://www.andamur.com/wp-content/uploads/2021/12/lorca.jpeg
921
921
andamur
https://www.andamur.com/wp-content/uploads/2023/01/logo-web-35-EN-156px.png
andamur
2021-12-20 12:24:13
2022-04-28 15:44:44
Andamur distributes €30,000 among different NGOs thanks to its campaign 'You decide'.