Andamur boosts its support for sport by sponsoring new sports teams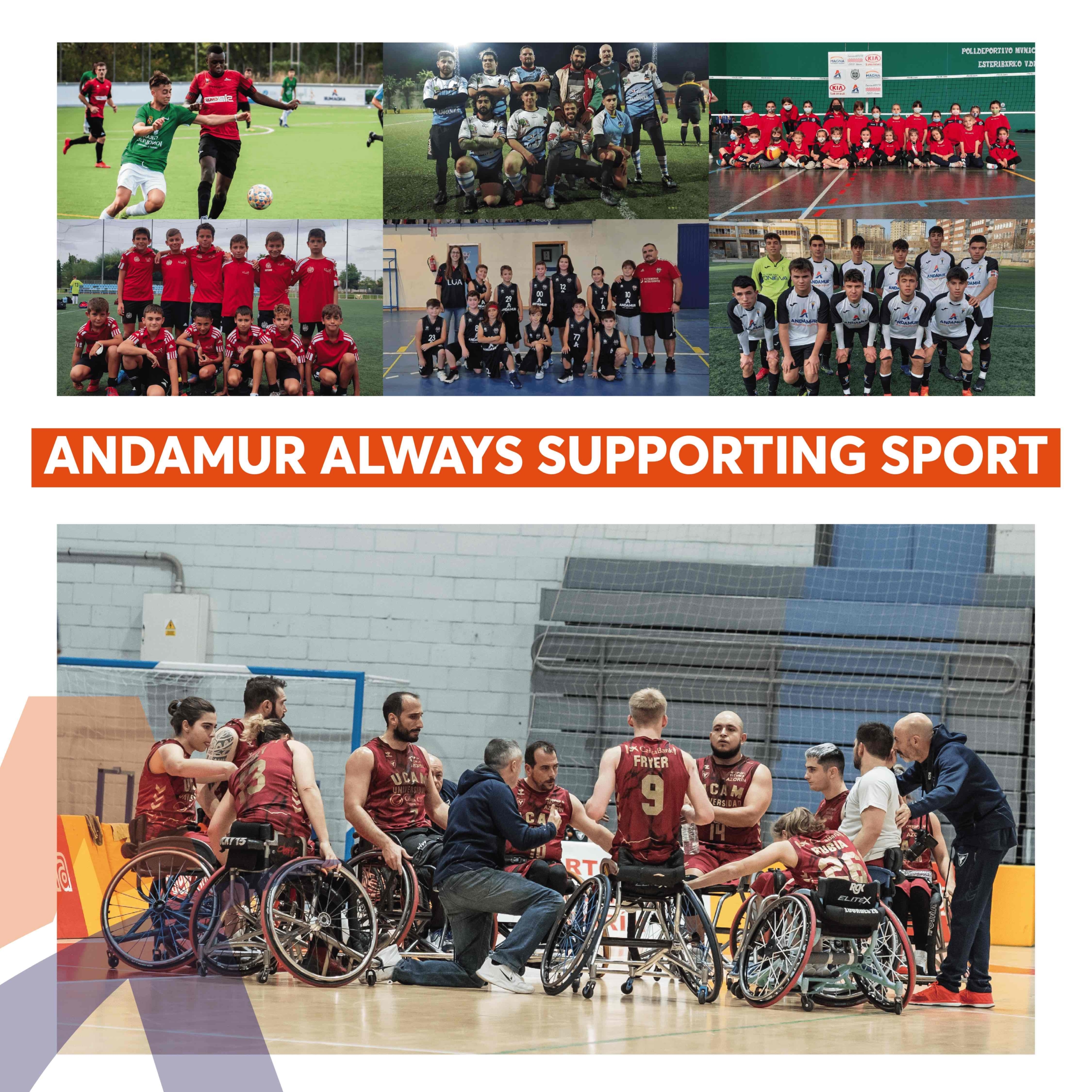 CD Murcia BSR Wheelchair Basketball team joins the list of entities sponsored by Andamur
At Andamur, we're committed to fostering a healthy lifestyle and sport. We carry out a wide range of actions in our Service Areas that encourage our drivers to lead a healthy lifestyle. These include offering high-quality and healthy food in our restaurants, facilitating and bringing sport closer to our customers with sports facilities such as the Andamur La Junquera gym, offering advice on how to do a workout in the lorry cab or coming up with healthy recipes that lorry drivers can rustle up when they are away from home.
Andamur has signed a new sports sponsorship agreement that we're really excited about with CD Murcia BSR (Wheelchair Basketball Team) that competes in the National ONCE Division of Honour League. A team that is extra-motivated and passionate, whose players possess incredible qualities to overcome their limitations. What's more, the team has several renowned professional players in its squad and, last season, they were close to qualifying for the Copa del Rey (King's Cup).
Supporting local sport is of the utmost importance to us, which is why, as well as signing the new agreement, we continue to support 7 local sports teams in the vicinity of each of our Service Areas year after year.
Andamur La Junquera: U.E La Jonquera

Andamur Lorca: C.B. Lumbreras LUA

Andamur El Límite: Huércal Overa C.F.

Andamur Guarromán: Íberos Rugby Linares

Andamur Pamplona: CD Ibararte

Andamur San Román: Agurain Kirol Elkartea S.D. Salvatierra

Andamur La Junquera- Llers: Club del Padel Llers 
These are clubs that foster sport among young people and encourage them to lead a healthy lifestyle while instilling sporting values such as teamwork, companionship, perseverance and self-improvement.
As well as these clubs, we also sponsored 3 sporting events held in Lorca and Llers:
Peñarrubia Lorca Trail

Lorca Half Marathon

Carrera Embruixada BTT LLERS, Girona
With our partnerships and sports sponsorships Andamur supports the achievement of Goal 3: Good Health and Well-being of the Sustainable Development Goals (SDGs) set by the UN: 'Ensure healthy lives and promote well-being for all at all ages'.
These actions are part of our CSR Plan, #WeLookAfterWhatMatters, at the heart of our commitment to society.