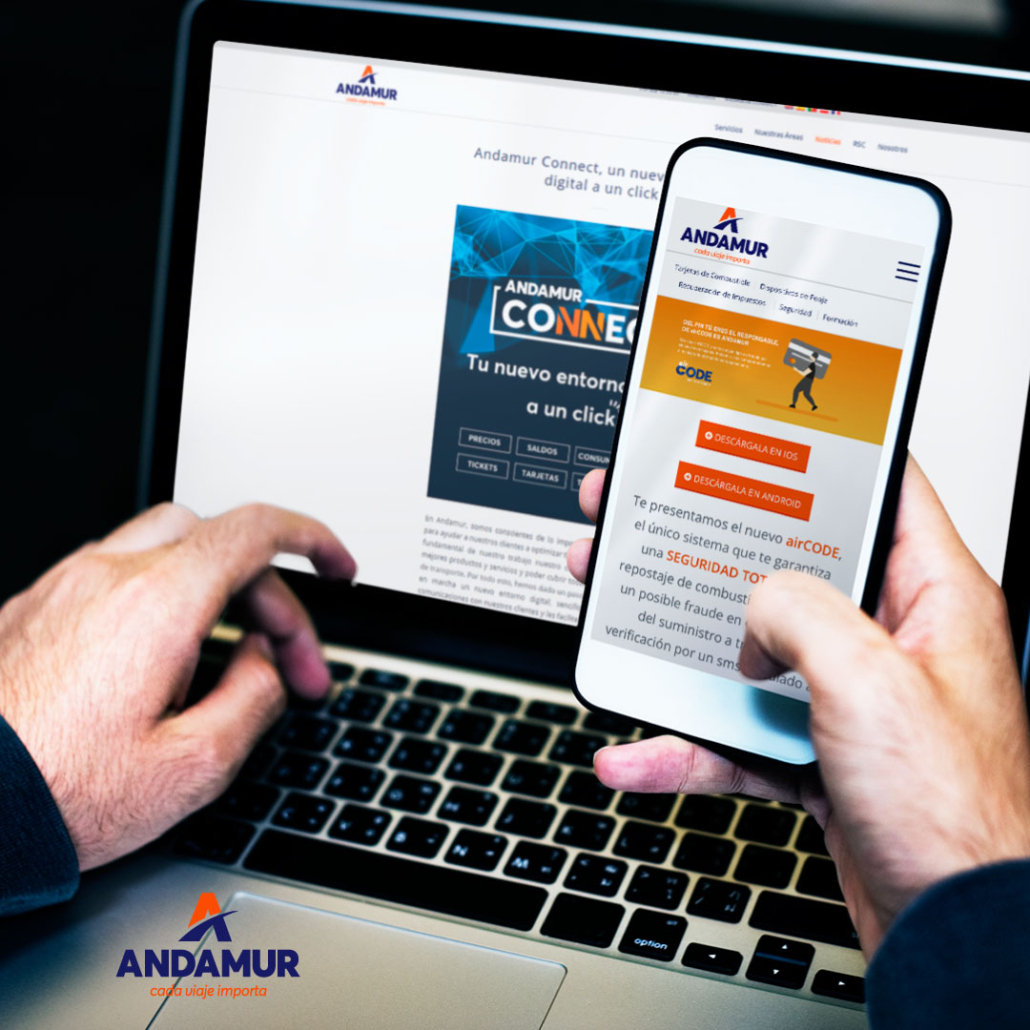 At Andamur we are committed to the safety and comfort of our clients. We know that there is still a long way to go, but we continue to fight every day so that our customers have everything they need on their routes. That is why we are committed to tools that provide simple solutions and facilitate the daily lives of our clients.
airCODE, synonymous with safe refuelling. 
One of the biggest problems faced by freight transport workers is fuel fraud, due to PIN misuse and card cloning.
At Andamur we work on solutions that value the safety of our clients. That is why two years ago we launched airCODE, the first mobile application available that guarantees total security in refuelling since it has the most secure verification system used by Banks and Public Administration.
airCODE avoids the potential for fuel fraud thanks to geolocation and code verification.
Using airCODE is simple. When refuelling at one of our service stations, whether our own or associated, national or at any service station in our European Network, the driver must request a verification code in the app developed by Andamur. They will immediately receive a limited validity, single access code, which links  to a single card, a single operation, a single vehicle, and a single driver, and at the service station from which it was requested.
airCODE is completely free and exclusive for Andamur customers at over 700 service stations in the Andamur network across 9 European countries. The app is available for iOS and Android and has the guarantee and commitment of Andamur as, in the event of fraud due to cloning of the Andamur card during refuelling, the corresponding amount will be refunded.
Andamur cares about the safety of fleets. Thanks to airCODE, refuelling has never been so safe.
Andamur Connect, the fleet management tool.
At Andamur we also work on simplifying processes and optimising our clients' time. This is how Andamur Connect, was born, a further step towards digitisation: a simple digital environment with greater connectivity so our clients have better access to the documentation and services of our company.
In addition, Andamur Connect has many other advantages and facilities for fleet management. Customers can also access functions such as prices, fuel cards, tolls, prepayment, security, profile data and user management.
Andamur cares about the safety of our customers and their fleets. We work every day to meet one of our objectives: to offer you everything you need on your routes and guarantee the highest quality in our products and services.
https://www.andamur.com/wp-content/uploads/2022/01/ARTICULO-EDU-MARINA-ARICODECONNECT-TEST-02.jpg
1080
1080
andamur
https://www.andamur.com/wp-content/uploads/2022/01/logo-web-35-EN-156px.png
andamur
2022-01-14 14:25:27
2022-01-17 16:49:00
Tools at the service of transport companies