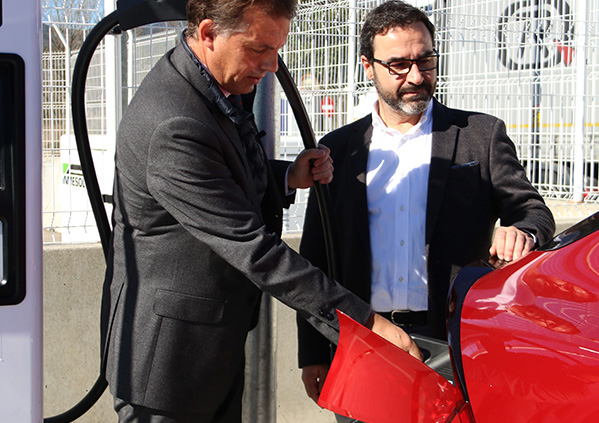 Endesa X and Andamur have chosen La Junquera, a strategic location with a high flow of traffic between Spain and the rest of Europe, to launch these first eight ultra-fast 350 kW recharging points, which take an estimated time of between 3 and 10 minutes to recharge a battery for 100km.
This new recharging area is the third such facility that Endesa X has installed in our service stations, out of a total of five planned under the agreement signed between the two companies in 2019. Apart from La Junquera, our other service areas with charging infrastructure are Andamur San Román (Álava) and Andamur Pamplona in the Ciudad del Transporte (Navarre).
We consider this partnership with Endesa X to be an important step within our strategy, which is based on providing our customers with multi-energy service areas, thus responding to the demand for new sustainable transport energy solutions.
As part of its infrastructure development plan, Endesa X has already rolled out more than 3,000 recharging points in Spain for all kinds of technologies.
Today saw the launch of our first ultra-fast recharging area with a total power of 1.4 MW, in partnership with Endesa X, Endesa's energy services and electric vehicles company division. The service area chosen for the installation is Andamur La Junquera, a major traffic hub and one of the main access points between Spain and the rest of Europe. As such, it is a strategic location and, by providing ultra-fast charging on one of the country's main transport corridors, the AP7, it is key to making long road journeys possible for electric vehicle users. The power capacity of these facilities allows you to recharge a battery for 100km in an estimated time of between 3 and 10 minutes, depending on the charging capacity of the vehicle and the percentage of battery it has at the time of recharging.
The event was attended by the deputy mayor of La Junquera, Rafael Medinilla; the director general of Endesa in Catalonia, Isabel Buesa; Miguel Ángel López, CEO of Andamur, and Manuel Muñoz, Endesa X's director of public infrastructure for electric vehicles.
This new charging hub, located in our Andamur La Junquera service area, very close to the French border, will allow up to eight vehicles to be charged simultaneously, thanks to its four ultra-fast technology stations (350 kW). Each station has two connectors (two cables) with the European CCS Combo charging standard.
Any electric vehicle which uses this type of charger will be able to use the new facilities. The characteristics of the car itself will determine the power, and therefore the charging speed, at which they can be used.
According to Manuel Muñoz, Director of Endesa X's Public Access Infrastructure Plan: "We continue to work to facilitate electric transport for all users, and not only in cities, where we have installed different charging systems for all types of uses in car parks, shopping centres, restaurants, hotels, hospitals, etc. We are also committed to providing ultra-fast recharging on the road, so that users have no hesitation when it comes to making long-distance journeys. This facility in La Junquera is a clear example of how we tailor our services to meet the needs of each location and we are delighted to have partnered with Andamur in this respect.
For Miguel Ángel López, CEO of Andamur: "The installation of Endesa X's 350kW ultrafast recharging hub in a location as significant for us as Andamur La Junquera sees us reaching a new milestone that reaffirms our vision. Our company's commitment to innovation and the environment is one of the fundamental principles on which our strategy has been based in recent years. In addition, we are helping to make the electric vehicle customer experience at our service areas increasingly similar to that of a conventional vehicle. At Andamur, we specialise in professional transport and heavy vehicles, and our agreement with Endesa X allows us to enhance our commitment to sustainable transport in our service areas, installing the best facilities and making them available to electric vehicle users as well".
This new recharging hub is the third that Endesa X has installed in our service areas, with a total of five planned for the time being. All of them are strategically located around the country.
The station installed at Andamur La Junquera is part of the AMBRA-Electrify Europe Project (2017-IT-TM-0110-W), funded by the European Commission's Connecting Europe Facility Programme (CEF Transport) and the European Investment Bank (EIB).
How do I use the chargers?
As regards the recharging process, you can book, use and pay for the service quickly and easily via the Endesa X Juicepass app. Users can download the app to their mobile phone and use it to manage the charging of their electric vehicle (pay, book up to 15 minutes in advance, etc.). They can also use it to select different tariffs according to their needs, with the option of monthly charging and pay-per-use tariffs, meaning that they only pay for what they charge.
The app is available on iOs and Android and users can register using their Facebook or Google account, or by providing an email address. Registering also allows you to access special charging rates and you can create your own account with your preferences and payment methods, which will facilitate subsequent charges. In any case, registering on the app is optional and you can always choose to use it without registering and pay directly with your credit card, through the app.
Chargers throughout Spain
Endesa X's recharging network consists of almost 3,000 public access recharging points in cities, rural areas and on roads. In the latter environment, the main roads have been covered, with more than 400 recharging points already operational, thanks to agreements such as the one signed with Andamur. Endesa X's objective is to continue to install charging services for all power classes, with a roll-out plan that takes into account all customer usage habits and therefore charging capacities. In addition to ultra-fast and fast charging, Endesa X is investing in facilities in hospitals, hotels, car parks, cinemas, restaurants and shopping centres, where the average stay is more than two hours. The development of electric transport is one of the cornerstones of Endesa's strategic plan, presented to the market late last year.
Andamur and sustainable transport
Our commitment to the environment and sustainable transport is clear. We work to give our customers the energy they need, now and in the future. Traditional fuel, NGV and Electricity are options available to our customers at some of our multi-energy service areas. It is worth noting that we are the first company in the sector to obtain Carbon Footprint Verification. Furthermore, in our search for new alternative forms of energy, we are committed to Green Hydrogen, and we are founding members of AHMUR, the Green Hydrogen Sector Association of the Region of Murcia.
https://www.andamur.com/wp-content/uploads/2022/02/10bcuadrado.jpg
599
599
andamur
https://www.andamur.com/wp-content/uploads/2023/01/logo-web-35-EN-156px.png
andamur
2022-02-24 12:19:04
2022-03-23 09:40:28
We have partnered with endesa to launch the first hub for 350 kw ultra-fast chargers in la Junquera