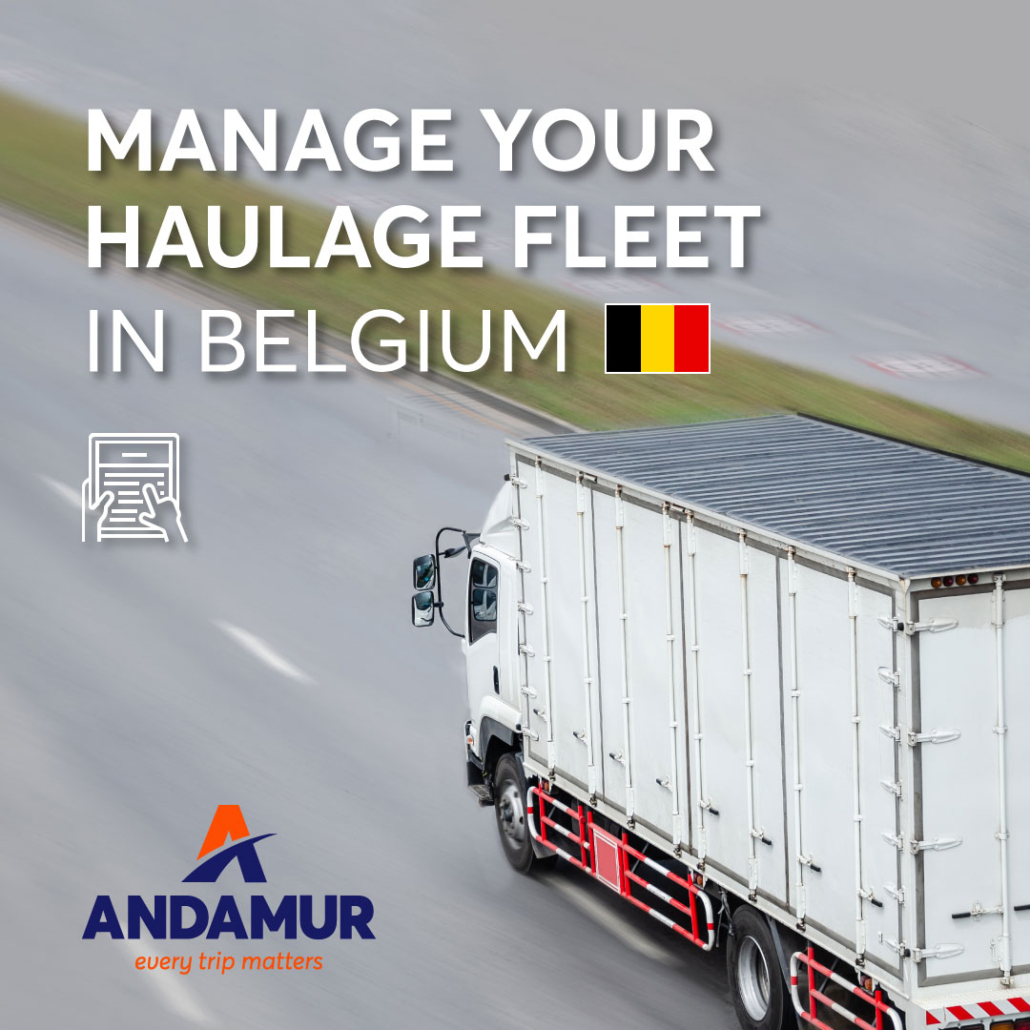 Every time a professional carrier drives a route through European territory, the transport company must do a lot to organise and manage the journey. It's essential to take various aspects into account in order to organise your fleet's route: tolls, service stations, devices that make your trips more bearable, fuel cards…
At Andamur we have made a firm commitment: to accompany the carrier on their routes through Europe. That's why years ago we embarked on an internationalisation process that is still currently underway.
Belgium is strategically positioned as the start and end point for the routes of many carriers at the European level, as it is home to one of the largest ports in Europe (Antwerp). It is for this reason that at Andamur we decided to start up operations in this area, in addition to offering the highest quality in our products and services, covering any needs that may arise.
Service Station Network in Belgium
In Belgium we have 35 partner stations operated by international companies such as IDS, Texaco, LNG Drive, TankTerminal or Romac Fuels. They are distributed throughout the territory with locations that organically coincide with the route of many carriers.
Most of these stations have a wide variety of services so that professional drivers can find everything they need on their routes: cafeteria, shop, restaurant, parking, showers, Wi-Fi… Of these 35, all but one are open 24 hours a day, 9 have a car park and one of them, Dijkstraat, 9 – Lokeren – Oost-Vlandere, has a car park with security.
As an environmentally aware company, we are committed to multi-energy and sustainability. Therefore, in this country we have 6 stations that have LNG and 2 with CNG.
Border stations
In addition to our station network in Belgium, at Andamur we also have border service areas in Spain for all those carriers who are going to embark on their route to Belgium.
Our San Román Service Area is located on the route that connects the Basque Country with France, an ideal spot for carriers travelling to Belgium or who are already on their way back.
Carriers whose routes include Belgium will be able to find all the products and services they need to get ready for their journey.
Open 24 hours a day, 7 days a week
Fast Service. 12 multi-product refuelling lanes that allow several products to be refuelled simultaneously, reducing service and waiting times
Car park with 66 spaces for trucks and surveillance cameras
ECO facility, equipped with solar panels and electric chargers
Hotel
In addition, for carriers who prefer to cross the border into France from the Catalonia region, our facilities in La Junquera are also at your disposal. On the one hand there is the Multi-Energy – Andamur La Junquera Service Area, the perfect place to make a stop both on your way there and back thanks to the many services it offers:
Open 24 hours a day, 7 days a week
Fast Service. 17 multi-product refuelling lanes that allow several products to be refuelled simultaneously, reducing service and waiting times
Secure parking with the capacity for 106 trucks, access control through license plate recognition, security guard and 24/7 video surveillance, 3-metre fence around the perimeter, toilets with night service, etc.
ECO facility, equipped with solar panels
And in the event that you only need to refuel, just 12 kilometres from Andamur La Junquera, we offer carriers the largest truck service area in Europe. The Andamur La Junquera – Llers Service Area has the following characteristics:
Strategically located
20 km from the French border
Easy access
200 m from exit 3 (AP7)
Ultra-fast refuelling
Full tank in about 8 minutes
Open 24 hours a day, 7 days a week
The Andamur Pamplona Service Area is located in the city of Imárcoain outside of Pamplona. Its wide range of quality products and services make it an obligatory stop for carriers who are travelling from inland Spain and the Spanish Levante region and are going to cross the border.
Service 24 hours a day, 7 days a week
Fast Service
Exclusive secure parking for heavy vehicles with 462 spaces and equipped with access control through license plate recognition, restricted pedestrian access, security guard and 24/7 video surveillance, etc.
ECO facility, with solar panels and electric charger
Tolls in Belgium
In Belgium, motorways are free for cars and motorcycles. However, for vehicles over 3.5 tonnes, a fee must be paid on motorways, highways and some local roads using ViaPass (an electronic system that replaces the Eurovignette in Belgium). In addition, the Liefkeshoek tunnel in Antwerp has a toll to be paid by all vehicles.
Electronic toll devices are the allies of professional drivers and transport companies as they allow fleets to travel faster and more comfortably.
At Andamur we offer our customers two toll devices for their trips through Belgium: ServiBOX and Interoperable EU.
ServiBOX is an easy and intuitive satellite device available in 12 European countries, including Belgium, which simplifies international transport procedures. This device guarantees maximum security and control over your fleet thanks to the KMASTER fleet management and control system.
Interoperable EU is an easy-to-install radiofrequency device. It is available in 7 European countries (Spain, Portugal, France, Italy, A4 autostrada in Poland (Katowice-Krakow), Austria and the Belgian tunnel).
Recovery of taxes and special taxes
If you are a company or a self-employed driver with consumption in European countries where you are not a registered tax payer, Andamur manages the recovery of the VAT paid for products and services related to your activity such as fuel, tolls, hotels, taxis, repairs, ferries, fairs…
The amount of the refunds will vary depending on the country and the type of consumption.
Domestic Tax on Petroleum Products
If you travel to Belgium, you must take into account the Domestic Tax on Petroleum Products (TIPP).
This tax can be applied to all Corporate Tax ID numbers in Europe and it is submitted on an annual basis, although the tax recovery process for it is very long.
A partial refund of the tax on energy products set by the Belgian government is granted but this only applies to freight transportation.
Andamur ProEurope
Andamur ProEurope allows you to refuel at more than 700 service stations in 9 European countries with a single card. It can be used at service stations in Belgium and during your routes to Belgium.
The card is free and has no minimum consumption requirements or fees. In addition, it has the following advantages for freight transport companies:
Flexible conditions thanks to the two forms of payment (credit payment by bank transfer or by online top-up through your Private Area, Andamur Connect, in the most immediate, convenient and secure way)
Security limits set by default and the card is immediately blocked if required, in addition to automatically activated anti-fraud alerts in order to secure your journeys throughout Europe
The only anti-fraud system on the market, airCODE. A system that secures all payments related to fuel supply as we encrypt all end-to-end transactions during refuelling.
At Andamur we are committed to the safety of our customers. We work hard every day so that fleets can complete their routes with the highest levels of safety.
At Andamur we know the importance of planning out each route. It is essential to know as much as possible about each country before embarking on a trip. At Andamur, we work day in and day out to provide this information about Europe and offer transport companies the services they need to simplify these processes. At Andamur, #EveryTripMatters
https://www.andamur.com/wp-content/uploads/2022/05/belgica-ENG.jpg
1080
1080
andamur
https://www.andamur.com/wp-content/uploads/2022/01/logo-web-35-EN-156px.png
andamur
2022-05-27 09:49:49
2022-05-31 14:19:14
Freight Transport in Belgium: What You Need to Know to Manage Your Fleet in Belgian Territory