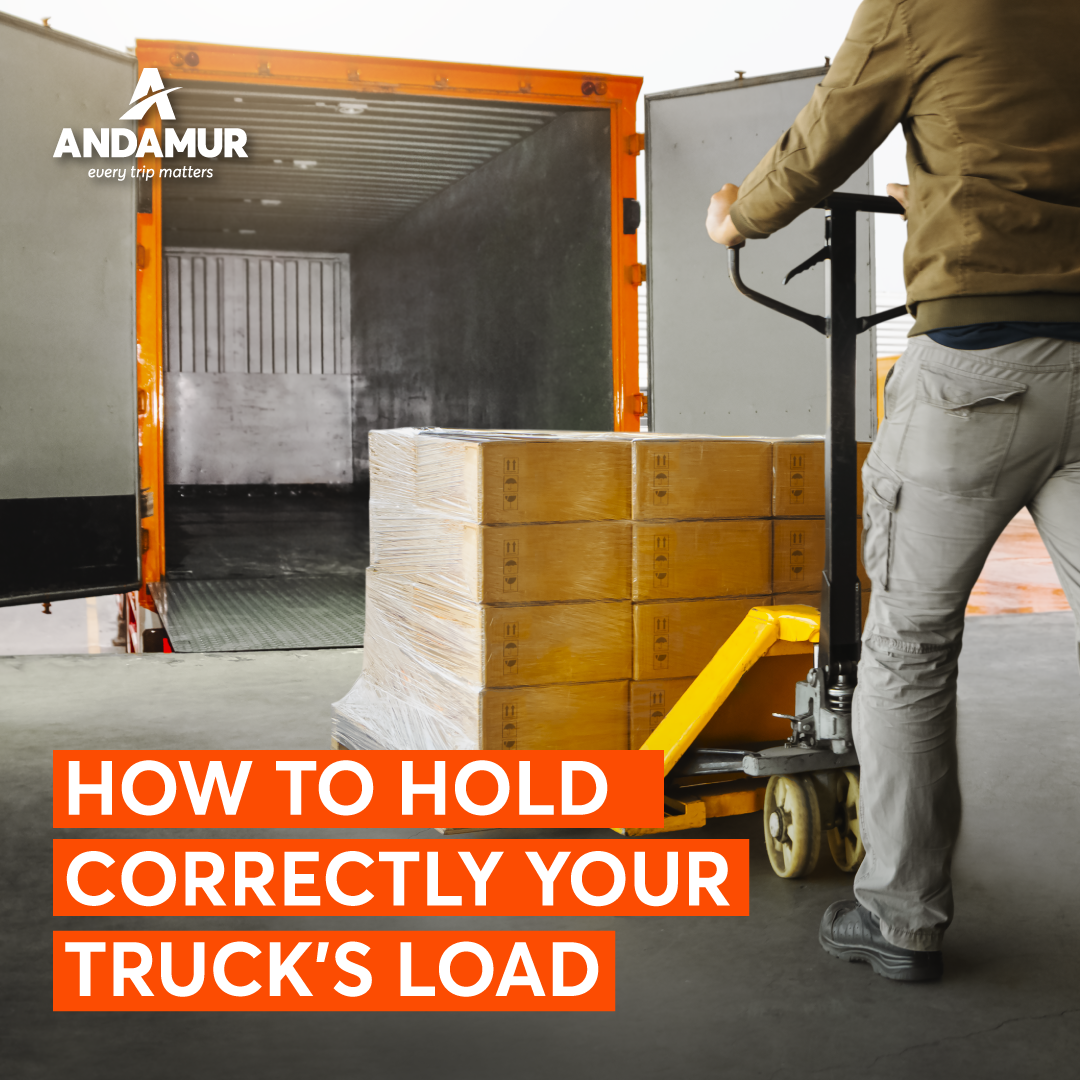 When embarking on a route, many factors must be taken into account to ensure a problem-free trip in the greatest possible safety.
One of the most common causes of accidents in cargo transport is the load coming loose due to improper securing. This can also lead to damage to the material being transported, or to the environment.
Tips for properly securing cargo
Andamur want to help avoid this type of incident to ensure that hauliers' journeys are as safe as possible.
That's why we propose a series of tips and recommendations from the Carrier Academy (AT) for safe cargo transportation.
Secure all loads. It may seem to be common sense, but this is not always true. Any object that we move must be properly secured. Whilst there may be no risk of slipping, it is recommended to use a top lashing for every 4 tons of cargo, to ensure that the load does not swing.
Fastenings and climate conditions. The methods used to secure loads must be appropriate for the different weather conditions that may occur on the journey: cold, heat, rain, snow, wind…
Types of fastening. There are different techniques and methods to secure goods: locking, direct lashing, top lashing, spring lashing… The system will be chosen based on the load being transported and the different forces to which they are subjected during the journey.
Group loads. In some cases, it is advisable to bundle certain loads and attach the bundle as a batch, rather than individually.
Spread the load when necessary. It is important that the load is distributed in accordance with the maximum authorised axle loads.
Take extreme precautions. It is important to consider safety aspects while driving: that the load does not interfere with driving, that it does not pose a risk to anyone or anything, that it does not compromise the stability of the vehicle… In addition, the loads cannot hide the devices lighting, mandatory signs, or manual warnings for drivers.
Label cargo. It is essential that the load is correctly marked.
Respect the weight and dimensions of the load. When the load is placed in the vehicle, it must not exceed the maximum authorised dimensions (not exceeding the length, width, and height of the vehicle) or the maximum weights.
Andamur are committed to the safety of all hauliers because #WeCareForWhatMatters. Following these recommendations will minimise the possibility of accidents due to problems with the load. To the road – take care!
https://www.andamur.com/wp-content/uploads/2022/07/sujecion-de-cargas-ENG.png
1080
1080
andamur
https://www.andamur.com/wp-content/uploads/2022/01/logo-web-35-EN-156px.png
andamur
2022-07-21 09:31:59
2022-07-21 09:31:59
Tips for cargo transport