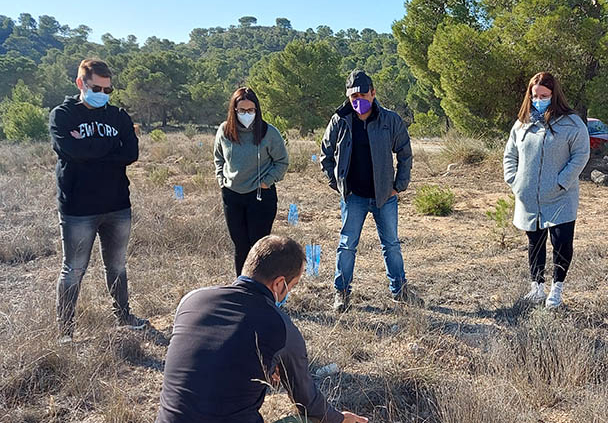 << With the "One refuel, one tree" campaign on 5th June, World Environment Day, we are fostering the growth of our Corporate Forest through the cooperation of our customers>>
At Andamur, as well as our commitment to people, we are committed to our surroundings and to the future of our planet. We have already taken a wide range of actions to reduce our carbon footprint.
One of our biggest concerns is the creation of forests.
In collaboration with the Bosqueo2 Association, over the last 4 years Andamur has been carrying out a significant reforestation project on the Alagüeces public estate, located in the Lorca district of Zarzadilla de Totana in the Region of Murcia. During this time, a total of 1,250 native-specie trees have been planted. The Andamur team has played an exemplary role with various plantations which they themselves have planted and sponsored; seeing for themselves the enormous value that trees provide to our environment.
Andamur's fight to protect the planet and improve our environment is made possible by all the advantges the Andamur Forest provides to our planet:
It will absorb 50 tonnes of CO2 per year in the medium term to offset emissions while limiting our carbon footprint.
Fights against the desertification of our region by planting tree and shrub species that protect and generate soil.
Benefits the biodiversity of the environment through the variety of species planted.
Increased presence of fauna, thanks to the planting of valuable species such as wild olive, Mediterranean Buckthorn, blackthorn and mastic trees.
Promotes greater food supply for fauna.
Generates seeds that can spread naturally and expand their presence in the immediate environment.
More resilience and regeneration capacity in the face of future episodes of drought, pests or fires thanks to the reforestation carried out with different native species. The Andamur forest is equipped to deal with the climate change that threatens us.
The reforestation work has been carried out with the utmost rigour and monitoring. Anti-fauna protectors, relief irrigation, choice of species, in order to achieve the settlement of the greatest number of trees in a semi-arid and complicated environment where drought is common.
It should be noted that this project has included 25 specimens of the Cartagena Sabina (Tetraclinis articulata), a species found in North Africa, with a presence in the Cartagena mountain ranges, where, due to the mild temperatures, it has a unique population in continental Europe. The Highlands of Lorca are a territory where winters normally record low temperatures, which makes it difficult for species such as this one to settle and difficult for them to reproduce. Nevertheless, climate change is leading to increasingly frequent warm spells throughout the year. For this reason, these 25 specimens planted in December 2021 will be monitored to check their behaviour in this new scenario.
However, the Andamur Forest is not the only one, as we are managing the implementation of similar actions in other provinces where we have service stations such as in Gerona, Jaén, and Navarre. All as a result of the World Environment Day "One refuel, one tree" campaign on 5th June, when, every time a vehicle is refuelled at our stations, a tree will be planted as part of the 2022 planting campaign.
In the new planting zones, the Andamur team from the nearest Service Areas such as Andamur La Junquera and Andamur La Junquera-Llers (Gerona), Andamur Guarromán (Jaén), Andamur Pamplona (Navarre) and Andamur San Román (Álava) will play an important role in the planting just like their colleagues at Andamur El Límite (Almería) and Andamur Lorca (Murcia) and their colleagues from the headquarters.  Therefore, by the end of the year, we will have several Andamur Forests around the country.
This initiative is part of our #WeLookAfterWhatMatters CSR Plan, which strives to protect the environment. Protecting the environment is everyone's business; and the benefits of the Andamur Forest are proof that every step we take counts.
At Andamur, we are striving to continue doing our bit to ensure the best future for our planet and play our part in achieving the Sustainable Development Goals, in particular SDG 13 Climate Action and SDG 15 Life on Land.
https://www.andamur.com/wp-content/uploads/2022/02/20220121_113647.jpg
608
608
andamur
https://www.andamur.com/wp-content/uploads/2022/01/logo-web-35-EN-156px.png
andamur
2022-02-07 13:30:08
2022-02-07 13:30:27
The Andamur Forest is getting bigger and bigger, with roughly 1,250 species planted.