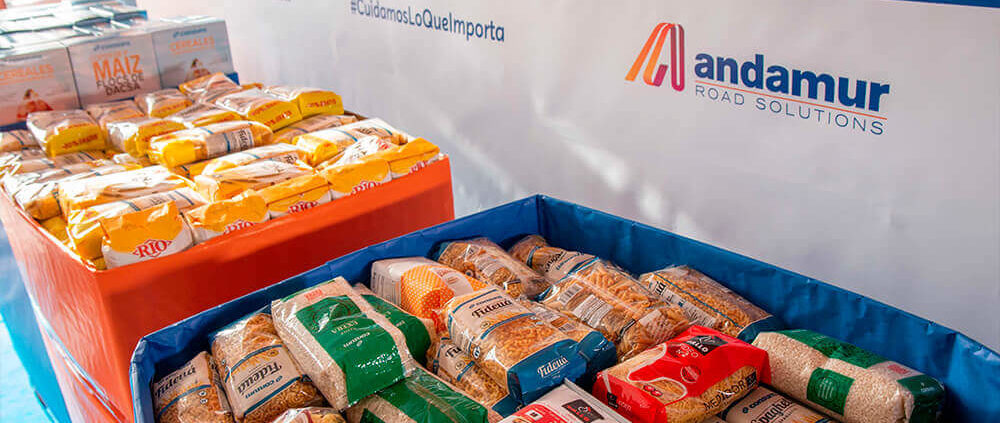 Thanks to the campaign Your effort multiplies by 3, 1083 kg of food have been collected since last 29 November and were donated by Andamur to the Cáritas food bank. 
This very morning this non-profit association has visited our facilities in order to collect the food. This is the end of the campaign Your effort multiplies by 3 with which we committed ourselves to multiplying by 3 the effort made by our clients with two aims: to promote exercise among drivers and to carry out a social action.  Thus, for every client that entered the Andamur gym at La Junquera, we have donated 3 kg of food to the Cáritas food bank. To take part in the campaign, drivers only had to use their fuelling or security car park receipt to access the gym facilities free of charge. A scoreboard kept track of the number of people entering the gym to obtain the number of kg that Andamur was to donate at the end of the campaign.
This action is included within Andamur's Corporate Social Responsibility programme #WeLookAfterWhatMatters with which we wish to provide added value to drivers, enabling them to work out, follow a healthy diet, stay calm while driving, get some rest or have a good time. Likewise, with this initiative, at Andamur we wish to collaborate with social and environmental actions as a way of giving back to society what it contributes to us as a company. At Andamur, we show this way our commitment to making drivers feel at home while they are at our service areas.
https://www.andamur.com/wp-content/uploads/2018/12/rrss4-min-1.jpg
666
1000
andamur
https://www.andamur.com/wp-content/uploads/2023/01/logo-web-35-EN-156px.png
andamur
2018-12-21 12:31:51
2019-02-06 08:07:28
Thanks to the campaign #YourEffortMultipliesBy3, 1083 kg of food were donated to Cáritas