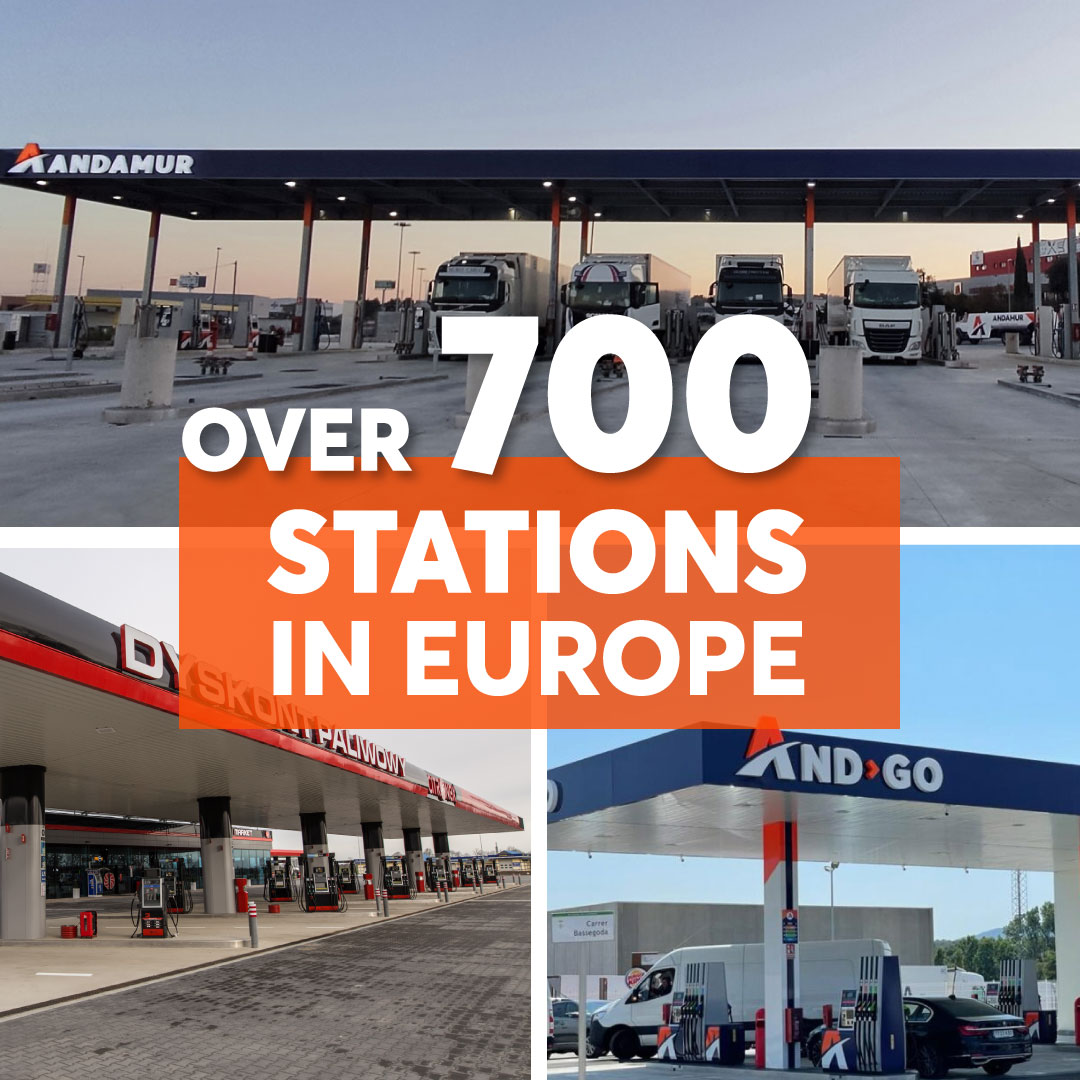 <<We have more than 700 stations in 9 European countries>>
Aware of how important it is for our customers to be able to plan their journeys properly, in 2021 we significantly expanded our Service Station Network, our own and partner stations alike, contributing to optimising mileage and time.
These new strategic points are in addition to the existing national and international ones. In Spain, we've gone from the 43 stations we had at the beginning of 2021 to the 64 that currently serve our customers. 21 new stations in Spain that boost our presence on the main transport routes, with stations in all the autonomous communities of the mainland.
Internationally, we have more than 700 stations across 9 European countries. In this respect, it should be noted that we are not only committed to expanding our network, we are confident that each of our partner stations, in Spain and across Europe, will meet the required needs and quality standards. For Andamur, one of our fundamental pillars is based on the driver's well-being and the optimisation of the products and services we offer our customers.
2021 was successful not only because we expanded our partner network, but also because we had the opportunity to inaugurate Andamur La Junquera-Llers, Europe's largest truck-only service area, and where, once again, we value our customers' time, with an agile and simple service that allows ultra-fast refuelling.
What's more, in summer 2021, we launched La Junquera AND>GO, our first car-only service station. It is a new service station concept, but with all the hallmarks of Andamur's quality and safety levels. It was set up to cater to French and national tourism crossing the border.
At Andamur, aware of the importance of fostering sustainable mobility and, in response to the growing demand in the transport industry, we are committed to multi-energy, with a significant increase in our network in the last year. We currently have a total of 20 multi-energy stations, 7 of them in Spain and the other 13 across Europe.
Of the 7 stations in our national network, 4 are self-run. At Andamur Guarromán, our customers can access LNG, CNG and electric chargers, with a total of 10 chargers and a power of 120 Kw so vehicles can be charged in 30 minutes. At Andamur San Román and Andamur Pamplona, we have electric chargers with 3 fast charging points and 50 kW power, thanks to which an electric vehicle can be charged in just a few minutes: 80% of the battery capacity is charged in roughly between 15 and 20 minutes. Our latest addition as an EV charging station is Andamur La Junquera, where last February, together with Endesa X, we inaugurated 8 ultra-fast recharging points and a power of 350 kW, making it our first ultra-fast charging point with a total power of 1.4 MW. We also have two LNG dispensers.
The 13 multi-energy stations of our International Network are spread across France, Belgium and Poland: 4 of them are equipped with electric chargers and 12 with LNG dispensers, 7 of which also dispense CNG.
There is no doubt that 2021 was a significant year of expansion and growth. In 2022, Andamur is as enthusiastic as ever, going to great lengths to continue with this implantation in the market and to continue growing and providing our customers with the best possible service at their  stops en route.
https://www.andamur.com/wp-content/uploads/2022/03/evolucion-de-red-de-asociadas-ENG.jpg
1080
1080
andamur
https://www.andamur.com/wp-content/uploads/2022/01/logo-web-35-EN-156px.png
andamur
2022-03-28 09:49:10
2022-03-28 10:07:23
Our Network grew in 2021 with new strategic locations across Europe