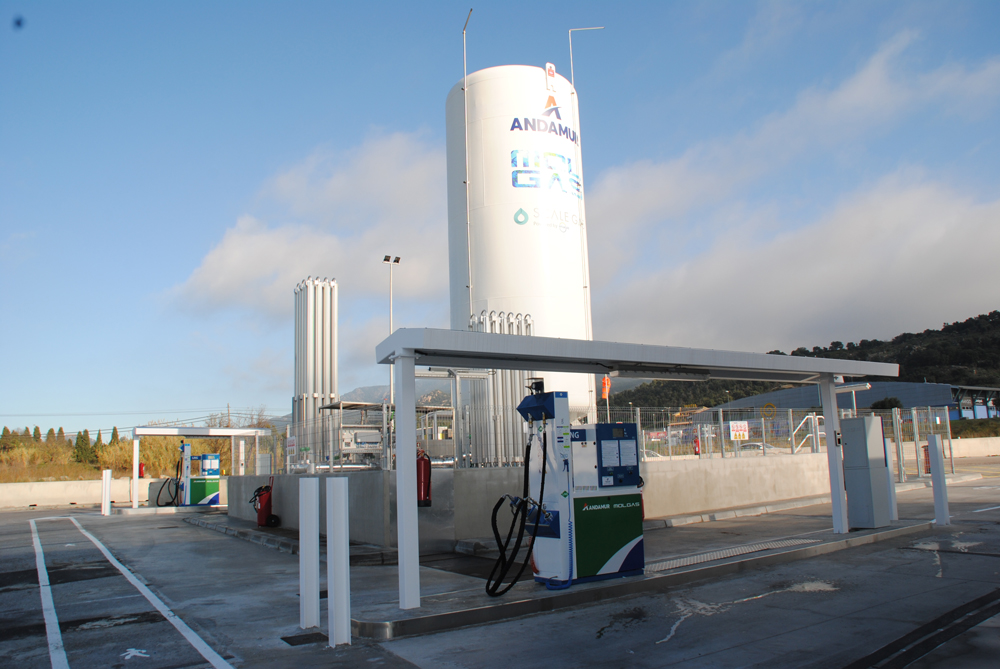 >> After the recent opening of Guarromán last September, Molgas and Andamur are once again betting on natural gas in a highly strategic enclave in international transport, La Junquera.
>> La Junquera becomes the eleventh natural gas fueling station of Molgas
Molgas customers can already refuel Liquid Natural Gas (LNG) at the Andamur La Junquera Service Area. This is the natural gas refuelling station that the company has launched, as a result of its collaboration agreement with Andamur, and after the opening of Guarromán in September of this year 2020.
The new Andamur Molgas natural gas fueling station is now operational and works 24 hours a day, is free to access and accepts debit and credit cards, as well as fuel cards from both companies.
Scale Gas, a startup born out of Enagás' corporate venturing programme, Enagás Emprende, dedicated to the field of infrastructure and small-scale logistics solutions, is in charge of the integral management of the natural gas station.
With this new incorporation to its network, Andamur continues to reflect its commitment to the environment. Multi-energy in Andamur is already a reality in which electric and natural gas (LNG and CNG) recharge points are integrated. In addition, it should be noted that this year that ends, the company has become the first company in the sector to obtain the Carbon Footprint Certification, thus taking the initiative in reducing emissions associated with the supply chains in the professional transport sector to promote the reduction of climate impact.
https://www.andamur.com/wp-content/uploads/2020/12/gasinera-junquera-ok.jpg
669
1000
andamur
https://www.andamur.com/wp-content/uploads/2022/01/logo-web-35-EN-156px.png
andamur
2020-12-10 10:15:47
2020-12-18 10:05:37
Molgas and Andamur launch another new natural gas fueling station in La Junquera