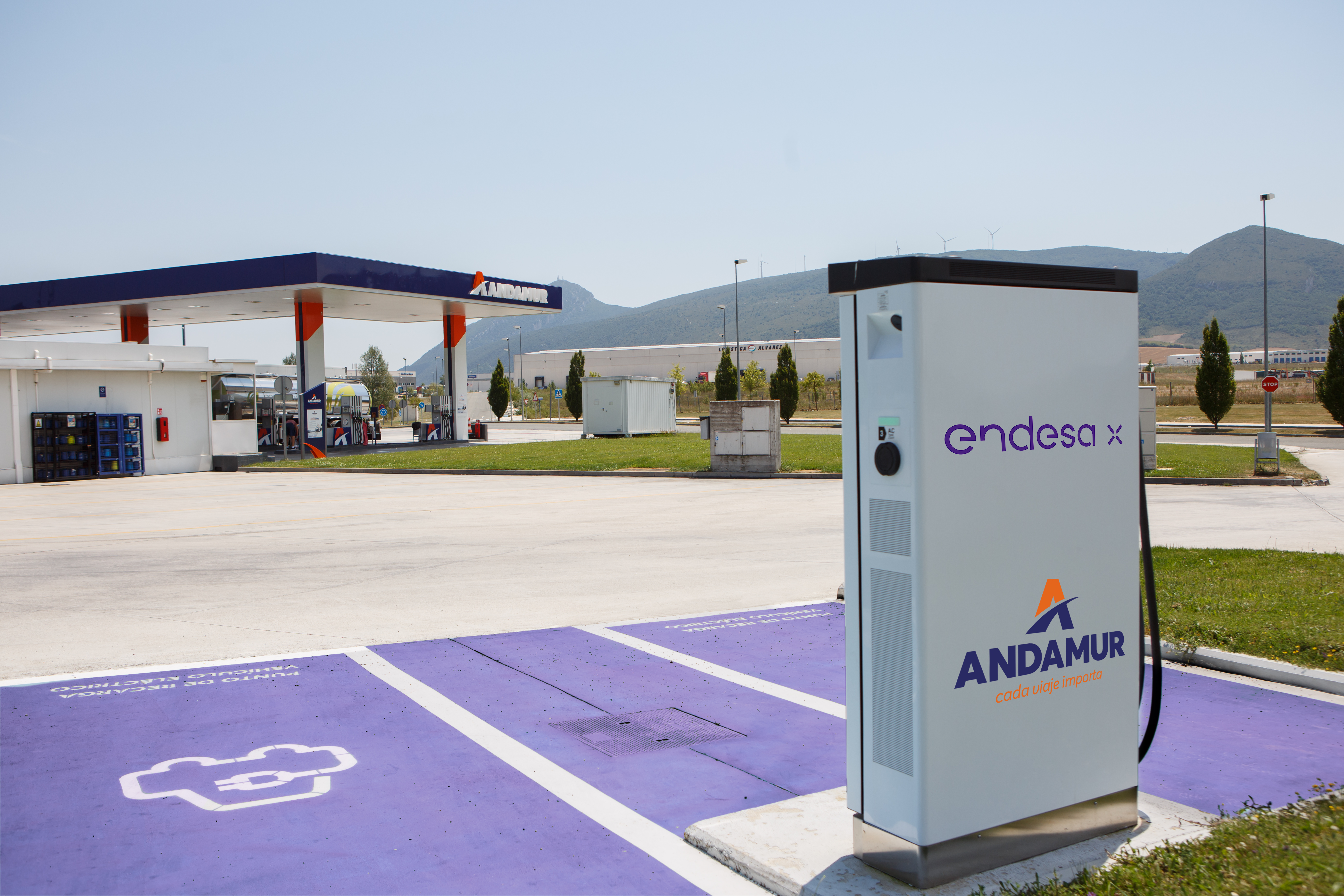 The first Endesa X fast chargers in Andamur service stations are now fully operational. The first two "Energy Islands" that have come into operation following the agreement signed by both companies on electric mobility are located in the service areas that Andamur has in the town of San Román (Álava) and in the City of Transport in Pamplona (Navarra). They are the first two locations of the six that Andamur has in our country and that will also have fast and semi-fast recharging infrastructure.
Both have rapid recharging points with a power of 50 kW, which allow an electric vehicle to be charged in minutes: 80% of the battery capacity is covered within 15 to 20 minutes. These chargers are also universal, as they allow recharging in both direct current (CCS Combo, CHAdeMO) and alternating current (Mennekes), which means they can provide service for all models of electric vehicles on the market.
"Thanks to facilities like this one, in an unbeatable location, we are closer and closer to being able to drive on the main roads of our country on board an electric vehicle with total normality, without changing our habits excessively, and with the peace of mind of knowing that we will be able to charge when we need to. By the end of this year, we will have the first 2,000 public access recharging points in operation, which will enable us to have woven a network of chargers along the 15,000 kilometres of the country's main roads and to have recharging available within a radius of less than 100 kilometres", said Elena Bernárdez, Endesa's electric mobility director.
For Miguel Ángel López, CEO of Andamur," with the installation of Endesa's fast chargers in our stations we are reaching a new milestone with which we are reinforcing Andamur's vision. Our company's commitment to innovation and the environment is one of the pillars on which our strategy has been based in recent years".
All the recharging points that are coming into operation are connected to the Endesa digital platform and users will be able to recharge their vehicles very easily, thanks to the new Endesa X mobile application, Juice Pass.
The app is available completely free of charge on IOS and Android and allows users to register with their personal details or through Facebook or Google profiles, offering economic advantages in recharge prices. In addition, creating a profile in the application brings advantages to the customer: the process is streamlined; all the detailed information about the recharge point, prices and schedules is accessed; the details of the recharges can be monitored in real time and it also allows access to the history of recharges and invoices.
However, you always have the option of not registering, accessing the updated map of recharge points and making a recharge by simply providing a credit card.  All the recharge points will be connected to Endesa's digital platform and users will be able to locate, through this application, the recharge station, find out its status, and even reserve the charger.
https://www.andamur.com/wp-content/uploads/2020/07/Cargador-Endesa-en-Andamur-Pamplona.jpg
3692
5538
andamur
https://www.andamur.com/wp-content/uploads/2023/01/logo-web-35-EN-156px.png
andamur
2020-07-06 12:47:25
2020-07-07 07:03:29
Endesa´s first chargers in Andamur Service Areas at full capacity