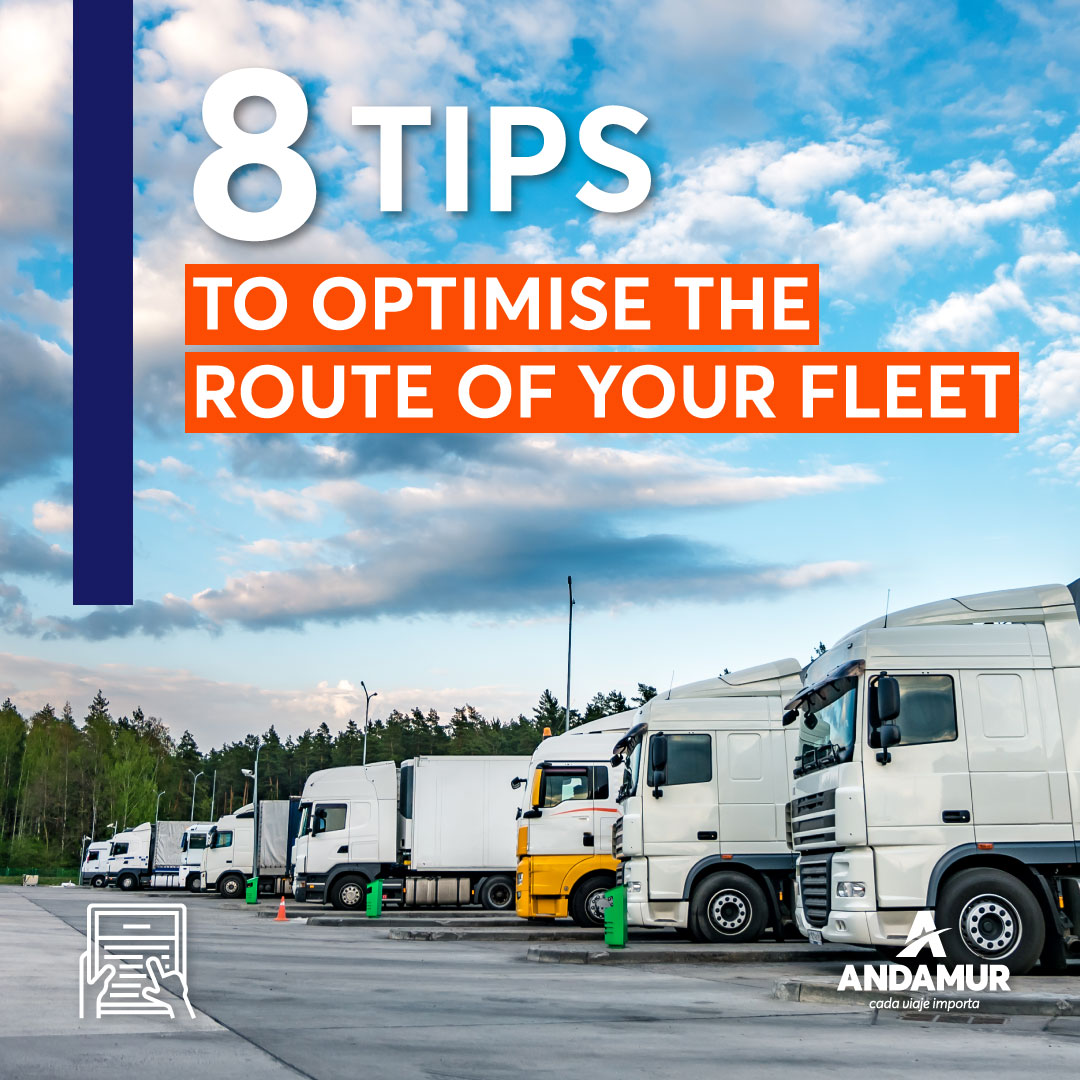 Before starting a transport route, it is important to accurately plan it and organise in advance to ensure that it is efficient.
Optimisation of transport routes can have many benefits for your company:
Shorter duration of the routes
Improved organisation of delivery times
More time available in case of unanticipated events
Reduced fuel consumption
Tips for optimising routes
When optimising routes, many factors must be considered. If you'd like to know how you can optimise your routes, Andamur will tell you! Read on!
Know detailed data and information about your employees and your vehicles. It is important to know staff availability, shifts, holidays, and permits that they have. It is also essential to find out the load capacity, volume, dimensions, type, and number of trucks, as well as whether they can store dangerous goods or for perishable products.
Ensure you know the product that is being transported. The dimensions, the weight, the temperature required, whether it is perishable or dangerous merchandise, etc.
Choose the most efficient route. This should not be confused with the shortest route, as other factors must also be considered such as traffic, the road, traffic lights… The most efficient route will not always be the shortest distance. It is important to use systems that inform us of traffic in real time to avoid problems on the routes and to offer the best customer service.
Plan the route carefully. In addition to choosing the most efficient route, it is necessary to consider the stops that the hauliers will make, where they will eat, places they can stay (in the case of long-distance routes), how many days the route will take, the origin and destination of the cargo, etc. It is also essential to know the times of the stops, in addition to the unloading times of the truck once the cargo arrives at its destination.
Track your fleet in real time. Knowing the location of each truck at all times is important to know when it will arrive at its destination.
Be aware of all sorts of information about the route. Check the weather report before your fleet embarks on each route, and the latest state of the roads.
Inform the client of any unanticipated event with their cargo. Correct communication with the carrier will keep you informed of any problems that may arise on the route.
Use technology to help optimise your routes. Thanks to technology and certain software, route optimisation is much easier today. This allows you to track your vehicles in real time, obtain reports, control maintenance, and more.
Andamur knows the importance of planning and organising transport routes to make them more efficient. That's why we work every day to offer transport companies the information to simplify these processes. At Andamur #EveryJourneyMatters
https://www.andamur.com/wp-content/uploads/2022/07/OTIMIZAR-RUTA-eng.jpg
1080
1080
andamur
https://www.andamur.com/wp-content/uploads/2022/01/logo-web-35-EN-156px.png
andamur
2022-07-13 09:17:21
2022-07-12 13:19:09
How to achieve more efficient routes