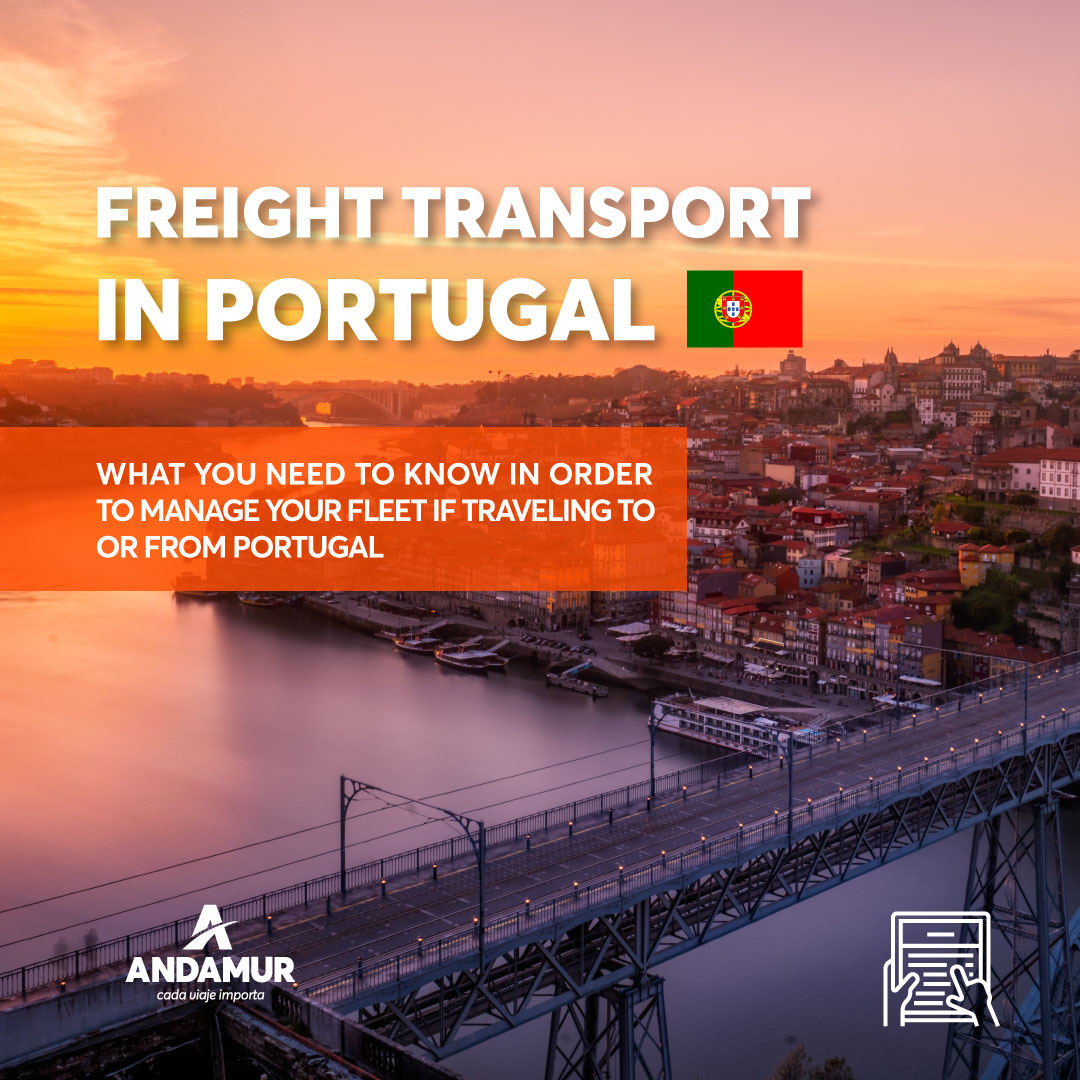 For freight transport companies, operating international routes in Europe requires a significant amount of organisation and management. Oversight with regard to aspects such as service stations close to the destination, tolls, refuelling cards, etc. is key when it comes to organising the routes of your fleet.
At the end of 2019, Andamur began to operate in Portugal, a market which is of great interest to us.
Service stations near Portugal
At Andamur, we are committed to providing the highest quality and the best service to our customers. To do so, we work hard to meet the needs of fleets on their routes.
We do not have an Andamur Station Network in Portugal. However, we do have an office and a specialised sales team in Coimbra, where we draw on our significant experience in order to assist companies in the Portuguese transport sector to achieve greater profitability and security by implementing high quality standards.
Andamur has more than a dozen partner service stations located along the border between Spain and Portugal, enabling us to ensure that professional hauliers have access to everything they need.
Andamur selected the cities of Huelva, Badajoz, Salamanca, Valladolid and Vigo as the locations for its service stations, but the aim is for the network to continue to expand throughout western Spain so as to provide more refuelling options to Portuguese customers and to those travelling to Portugal.
Most of these stations provide a wide range of services: 24-hour availability, cafeteria, washing facilities, restaurant, toilets, showers, Wi-Fi connection, supermarket, car park, shop, self-service, laundry…
We also operate service stations along the border, which are very popular with hauliers from all over the world, including Andamur La Junquera – Llers, Andamur La Junquera, Andamur Pamplona and Andamur San Román.
An ideal location for hauliers travelling abroad from Portugal is our San Roman Service Area, situated on the route linking the Basque Country with France.
The service station provides Portuguese hauliers or those coming from Portugal with all the products and services they need when preparing to cross the border:
Open 24 hours a day, seven days a week.
Fast service. Seven multi-product refuelling lanes that allow several products to be refuelled simultaneously, reducing service and waiting times.
Security car park with 66 parking spaces for lorries and surveillance cameras.
ECO facility, equipped with solar panels and electric chargers.
Quality certifications. ISO 9001, ISO27001, ISO45001, ISO14001, Seal of Quality, SGS, Une 175001-6
Hotel
Tolls in Portugal
When travelling on an international route, companies and professional drivers need to know whether or not there are tolls involved and how they operate.
There are two toll systems in operation in Portugal: electronic tolls and traditional tolls.
Electronic tolling has led to quite a few issues on Portuguese roads. In 2011, due to the economic crisis, it was put in place along formerly free motorways.
There are no booths at these tolls, as they use a fully electronic system. The method used to collect tolls is similar to that used for capturing speed and involves the use of cameras which read number plates. You therefore need to ensure your vehicle's number plate is registered in the system.
In the case of traditional toll booths, payment is made in the same way as for all tolls, via cash or card. There is also an electronic toll lane for those who choose that option. This lane is called the "Via Verde" (Green Lane) and, unlike in Spain, there are no barriers in Portugal to prevent you from passing through.
Electronic toll collection devices are ideal for professional drivers and transport companies as they are faster and more convenient.
At Andamur, we provide our customers with two tolling devices for your journeys through Portugal: ServiBOX and Interoperable EU
ServiBOX is an easy and intuitive satellite device which is available in twelve European countries and which makes it easier to manage international transport. This device guarantees maximum security and control over your fleet thanks to the fleet management and control system KMASTER.
Interoperable EU is an easy-to-install device which uses radiofrequency technology. It is available in seven European countries, including Portugal.
Andamur ProEurope
The Andamur ProEurope card allows you to refuel at more than 700 service stations in nine European countries with a single card. It can be used it at border service stations on your journeys to Portugal.
The card is free, with no fees or minimum consumption requirements, and has numerous advantages for freight forwarders. These include flexible options (credit payment via bank transfer or online top-up via your private area, Andamur Connect, the fastest, most convenient and secure way), special prices for reclaiming foreign taxes, monthly invoicing broken down by country and registration number, security limits set by default and immediate blocking if required, as well as anti-fraud alerts automatically activated in order to secure journeys in Europe.
At Andamur, we are committed to the security of our customers. We work every day to ensure that fleets can operate their routes as securely as possible.
Now you can enjoy the maximum security offered by Andamur ProEurope through the only anti-fraud system on the market, airCODE. This system guarantees 100% security when refuelling and works as follows:
When the lorry driver is ready to refuel at one of Andamur's service stations (whether its own or an affiliated station, in Spain or in the rest of Europe), they use the airCODE application to request a code that is associated with a single card, a single vehicle, a single transaction and a single driver. They will immediately be sent the code, which will be valid for a limited period of time and will be for exclusive use at the station from which it was requested.
This system ensures that all payments related to fuel supply will be secured, as we encrypt all transactions end-to-end during refuelling, thereby preventing fraud at the time of refuelling by means of verification through SMS.
Being informed with regard to your routes in Europe will help your fleet to travel securely and comfortably. At Andamur, we are aware of how important it is to know how service stations, tolls, fuel cards, etc. work in each country. Our aim is to provide our customers with this information, as well as with services that simplify these processes. At Andamur, we take care of our customers, because #EveryJourneyMatters.
https://www.andamur.com/wp-content/uploads/2022/03/articulo-marina-edu-gestionar-flota-en-portugal-ENGL-02.jpg
1080
1080
andamur
https://www.andamur.com/wp-content/uploads/2022/01/logo-web-35-EN-156px.png
andamur
2022-03-21 11:37:14
2022-03-21 11:37:14
Freight transport in Portugal: what you need to know in order to manage your fleet if travelling to or from Portugal