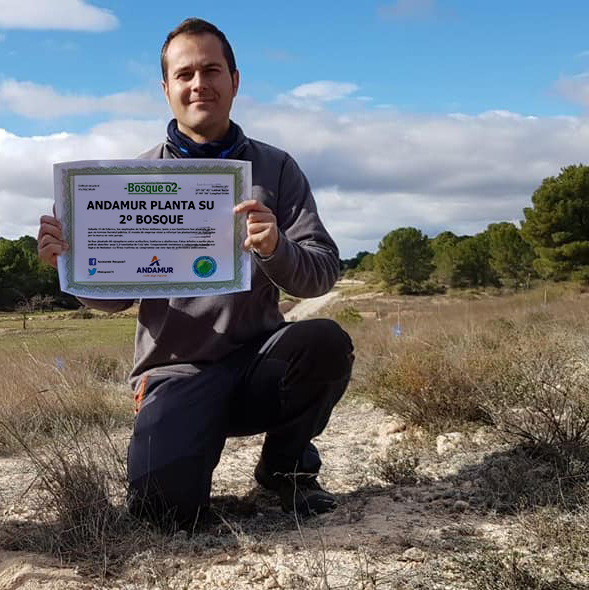 At Andamur we're committed to the environment and, as it happens, in 2020 we became the first company in the industry to receive its Carbon Footprint Certificate.
Today is International Day of Forests and we want to take the opportunity to highlight the great work done by Bosqueo2, an association we've been working with for the last three years to keep the Andamur Forest growing.
One of the focal points of Andamur's CSR Plan is the environment, and with each of the initiatives we undertake as part of this plan, we work towards the UN's Sustainable Development Goals. Specifically, with our company's forest we support SDG 13 Climate Action and SDG 15 Life on Land.
Today we interviewed Pedro Quiñonero Gómez, chairman of the Bosqueo2 Association
Why was Bosqueo2 set up? What are its main objectives?
Bosqueo2 was set up in late 2014 in a very modest way but with an enterprising spirit. In the Region of Murcia, there were very few organisations engaged in participatory reforestation.
Sharing a keen interest in the environment, some friends and I decided to create the association with the clear intention of doing something different to what was known until then. That was how we shaped the activities that we do today.
Activities that go beyond just planting a tree. We decided to make the planting more attractive by always adapting to the needs of the participants. The objectives were very clear from the start:
Carry out environmental restoration with a high success rate.
Raise awareness – through dissemination of our activities, among participants and the rest of society – of the importance of expanding forests in a territory at risk of desertification.
Make a good impression on the participants in the reforestation, whether by sponsoring specimens and creating personalised digital records or activities related to the day.
To make it easy for companies to sponsor forests, whether with the participation of their employees or direct sponsorship, always stressing the CO2 emissions that are offset by the initiative, and the fight against climate change.
How many specimens has Bosqueo2 planted so far?
Adding together the trees planted by educational centres and companies, over 6,000 specimens, all with guards to protect them from wildlife, a personalised digital record and watering for the first two years. They're planted across 15 hectares of land where Bosqueo2 carries out its activities. On top of this, thousands of seeds have been sown in other projects undertaken by the association.
What are the main characteristics of these species?
The species we use adhere to a plan drawn up by foresters and implemented by Bosqueo2. These species – wild olives, mastics, blackthorns, buckthorns – are autochthonous varieties highly resistant to the droughts that are so common in the south-east, capable of sprouting new shoots in the event of fires. We always avoid monoculture, since biodiversity is greatly improved, and plagues have little effect on this kind of homogeneous forest.
What does it mean for Bosqueo2 to have companies, organisations and educational centres involved in its cause?
It's very satisfying – when we started, we went from door to door explaining the project. We didn't know whether it would generate interest among companies and educational centres. Fortunately, with a lot of effort and perseverance, we attracted interest, and everything got off the ground. The trust that companies and educational centres have placed in us these last few years is our raison d'être. It's thanks to them that we're able to do our planting, so we want them to come away feeling satisfied.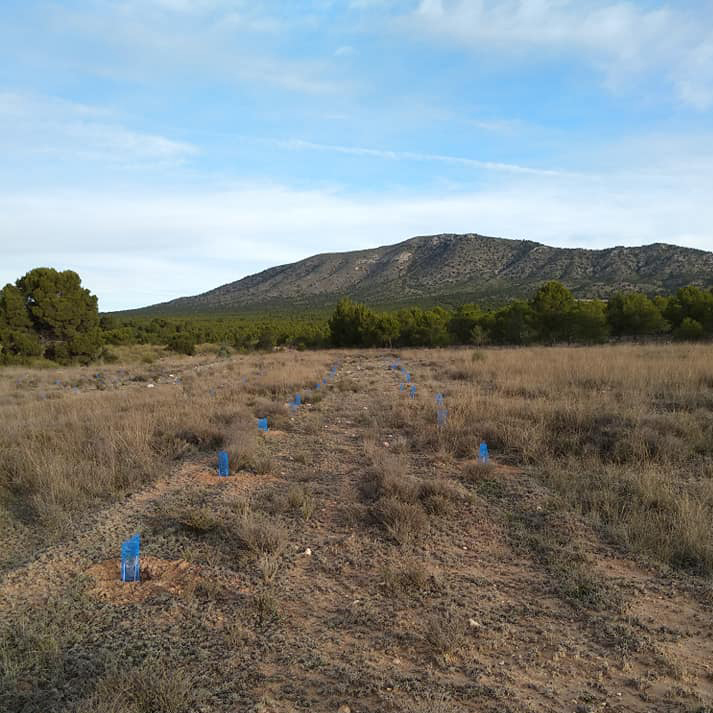 So far, how many organisations have worked with you?
Countless state and private educational centres in municipalities such as Lorca, Águilas, Murcia, Cartagena, Totana and Puerto Lumbreras.
As far as companies are concerned, each year we've had the support of various businesses, which have planted trees either in person or by providing sponsorship remotely on behalf of their employees or clients, who they offer a specimen alongside a very comprehensive digital record. We've worked with organisations in the telecommunications, commercial, industrial, transport, and energy and food distribution sectors, as well as foundations representing holding companies.
We adapt our planting to all kinds of needs. Flexibility is essential for carrying out these initiatives.
What is the most rewarding aspect of this project for you and the association's other members/volunteers?
Although the work is sometimes hard, like when we're watering in the middle of July or preparing the holes before the activities, it's all worth it when, for instance, we remove the guards from the specimens a few years later because they've grown and need more space, or when we see participants in the activity visiting their specimens later to water them and take photographs alongside them. And, probably the most important aspect of the work is seeing the satisfaction in the faces of the participants once the activity is over and everything has gone as planned.
https://www.andamur.com/wp-content/uploads/2021/03/pedro-retoque.jpg
590
589
andamur
https://www.andamur.com/wp-content/uploads/2022/01/logo-web-35-EN-156px.png
andamur
2021-03-18 09:00:48
2021-03-18 14:57:50
Bosqueo2, more than 6,000 trees planted: Interview with Pedro Quiñonero, president of the association.