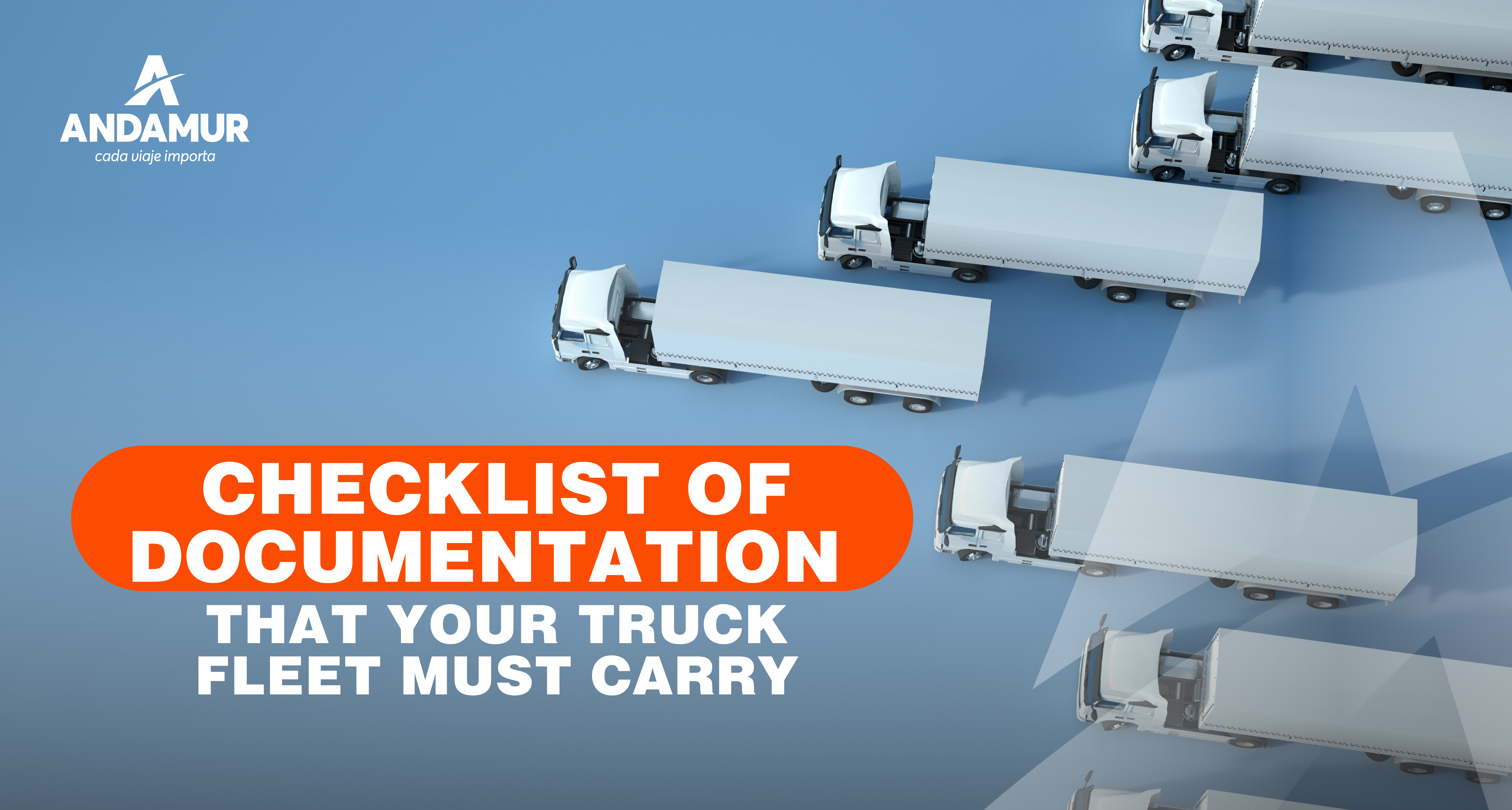 The transport sector is fully regulated and requires special documentation depending on the type of goods being transported, the type of vehicle or whether the destination is national or international.
At Andamur we understand the huge responsibility that drivers take on when transporting heavy or dangerous goods. For this reason, we want to help all members of the sector to become familiar with the necessary documentation that truck drivers must always carry with them.
Regarding the truck's documentation, these vehicles must comply with a special regime and demonstrate that they are in optimal conditions to be on the road. These are the licenses required:
Vehicle registration. It must always be in the truck and, of course, must be valid.
Roadworthiness certificate. This is the document that identifies a vehicle and its owner. It certifies that the vehicle complies with the necessary technical standards to drive on the road.
Vehicle insurance. Since you can never drive without insurance, you must be able to prove at all times that you are up to date with your payments.
Transport authorisation. Allows carriers to operate on behalf of others.
Vehicle inspection document: like all vehicles, trucks must also prove they have passed inspection.
Maintenance record where all the maintenance operations done on the truck are logged.
Tachograph inspection certificate.
Thermograph inspection certificate (ATP in the case of transporting perishable goods at regulated temperatures).
The truck driver's documentation is just as important. The driver of the vehicle must be able to identify him or herself and demonstrate that they have the capacity to transport their goods. To do so, they must carry:
Valid driving license. The driver must be in possession of the appropriate license according to the type of vehicle they drive, taking into account its dimensions and weight.
ID card or passport. The driver must carry with them their identifying documentation.
Certificate of Professional Aptitude. Compulsory training that must be obtained by all truck or bus drivers who have obtained their heavy vehicle driving license, such as class C or D.
Log book. This is the record that collects the data about the vehicle's journey (kilometres travelled, speed, time, breaks, rest periods, etc.) for the current day and the previous 28 days.
Training certificate/special authorisation. If dangerous goods are being transported, proof must be presented confirming that the driver has the necessary training to transport this type of goods.
Depending on the goods being transported, different types of documentation are required:
Waybill. This is the credential that informs of the goods being transported and the quantity of said goods.
Instructions for the driver: This is an instruction manual that indicates how to act with respect to the transported load.
Complying with regulations is essential in order to not commit any violations and avoid sanctions, as well as the partial or total confiscation of the goods. Therefore, it is best for professional drivers to check that they have all the necessary documentation before each trip.
https://www.andamur.com/wp-content/uploads/2022/09/art-FLOTAai_26A-Alargado-copia-2.jpg
3126
5834
andamur
https://www.andamur.com/wp-content/uploads/2022/01/logo-web-35-EN-156px.png
andamur
2022-09-23 18:01:33
2022-09-23 18:03:35
Checklist of Documentation That Your Truck Fleet Must Carry