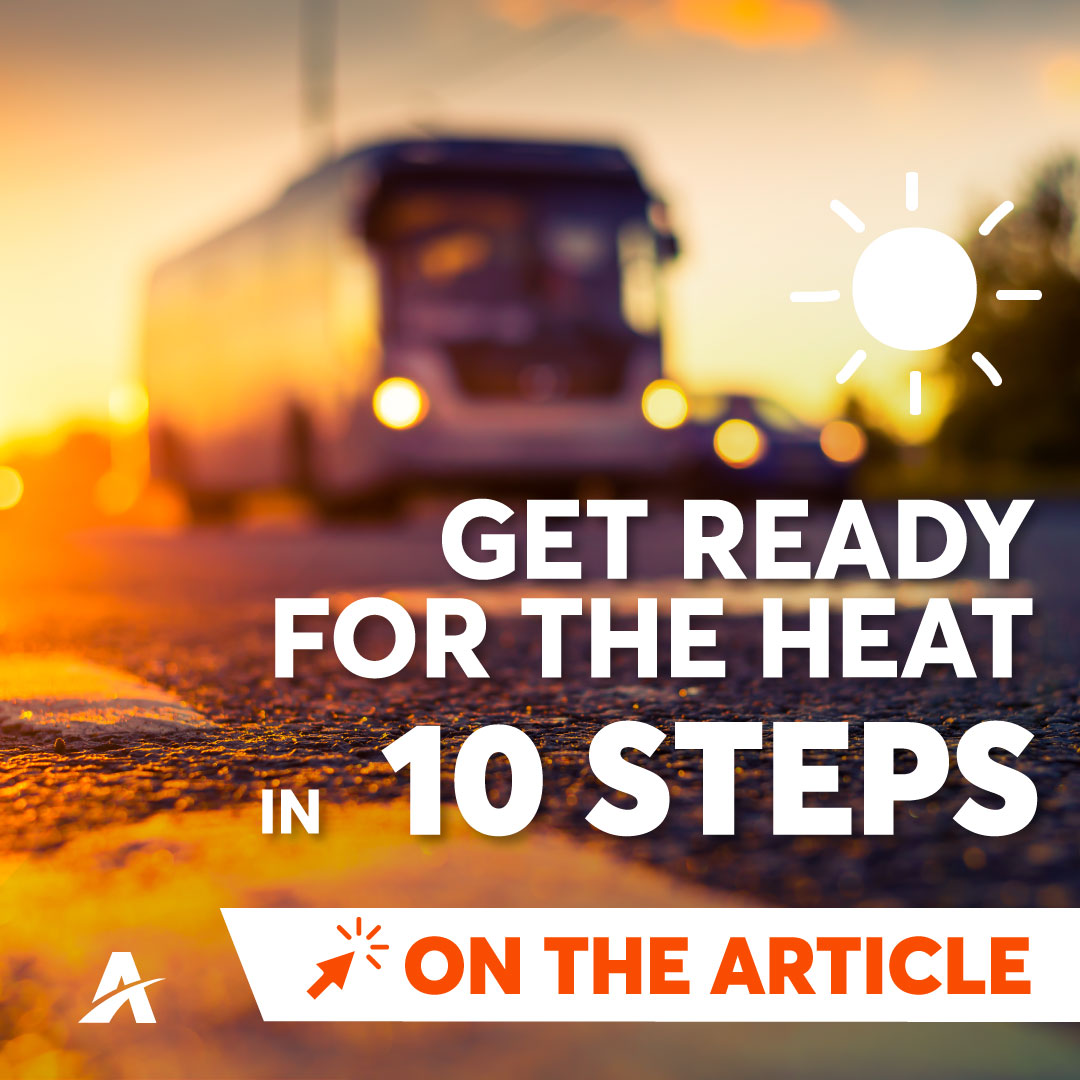 Professional driving is an incredibly hard job, especially when summer arrives with its high temperatures and long journeys. During these hot months, it's important to keep a lorry ready for its journeys, as well as to follow some recommendations for avoiding heat stress (or heat stroke) caused by the high temperatures.
Lorry maintenance tips
The heat can wreak havoc on a lorry, which is why it's important that professional drivers carry out some checks in order to maintain their vehicles.
Check the cooling and air-conditioning system. Checking your refrigerant concentration levels is essential for making sure the cooling system works properly.
Check the condition of the brakes. Though it's something you should always check, in summer it becomes indispensable. The heat can cause brake failure due to loss of friction.
Inspect the wheels. Hot asphalt wears out the rubber on the tyres. It's therefore important to check wheel condition and air pressure.
Examine the drive belts. Drives belts are often forgotten when it comes to inspecting the parts of a lorry. To make sure they're in good condition, professional drivers should check that they can be bent while they rotate.
Tips for professional drivers
A professional driver's health is as important as maintaining the lorry. The following tips will reduce the chances of experiencing problems such as heat stress during the journey.
Hydration. Be sure that you always have a bottle of cold water in the cab. Staying hydrated is essential for coping with the summer heat.
Rest. Rest is key to avoiding sleepiness at the wheel. In addition to sleeping 7-8 hours a day, it's important that you rest during your journeys. If you notice any symptoms of drowsiness as you drive, park in a safe place and rest as much as possible.
Drive in light clothing. Wearing clothes made of lightweight fabrics that allow the skin to breathe will help you combat the heat during the summer months. Very heavy fabrics increase body temperature and the chances of heat stroke.
Keep the vehicle ventilated. The lorry cab must be ventilated when you start your journey. Open all the doors and windows before getting in the vehicle so the heat can leave the lorry. Then turn on the air conditioning to keep the cab cool.
Protect your skin and eyes. Sunscreen and good-quality sunglasses are essential for your journeys. The sun can cause burns and increase body temperature, leading to heat stress, as well as irritate the eyes and make drivers more tired and more likely to fall asleep.
Night is better than day. If your route allows it, you're well rested and you're someone who can stay awake at night, driving after nightfall when the temperatures are lower will reduce the chances of heat stroke. Driving is also less tiring in the early hours when the roads are clear and traffic flows more easily. If this is not possible, another good time to travel is early in the morning (from 6 to 11 am) or late in the evening. Try not to drive at the hottest time of day (between 12 noon and 6 pm).
At Andamur we like #TakingCareOfWhatMatters and we're committed to the wellbeing of professional drivers. At the wheel, taking care of yourself is a priority. Not only should you look after your vehicle, but also your health. Take care!
https://www.andamur.com/wp-content/uploads/2021/06/CONSEJOS-PARA-EL-CALOR-ING-1.jpg
1080
1080
andamur
https://www.andamur.com/wp-content/uploads/2022/01/logo-web-35-EN-156px.png
andamur
2021-06-21 11:26:36
2022-10-03 14:04:27
10 tips for professional drivers during the summer